ayeris, pronounced "Iris", like the ring-shaped membrane in your eye or the Greek god of the rainbow, is about making things good, better and to communicating the excellence of timeless design to and for the world.
The ayeris project started back in June of 2013, deeply studying each icon in iOS 6 and how they were designed. A lot of questions were asked like what truly makes an icon. Is it the colours? The glyphs? The playful illustrations? Well, it's none of this. Rather, it's all of this. Then, we got a glimpse of iOS 7 and I saw the direction where design is going and knew that ayeris was the way to go. Design is not always about changing things just to say it's different, that's easy. The hardest part is to take something that is already good, and make it better, with a different approach.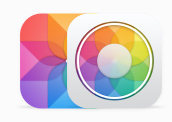 Like everything else, each individual icon needs its own time to set and see how well it ages throughout the design process. Does it communicate well with the app it's trying to represent? For example, a Photos icon should be represented by a print-out of a photo, but that's not the world we live in anymore because everything is digital. So, if ayeris was to communicate with the world through a single print-out picture for its Photos icon, this theme would probably be outdated by the end of the year. A Camera icon should represent some sort of device that we use to take pictures with because it only makes sense. So, should it contain a glyph of a popular Sony point and shoot camera? What about DSLRs? Or wait, why not an iPhone because it's the most popular point and shoot device, right? No. Let's go with something all cameras have in common, a lens. Then, lets have the Photos icon inside of the lens, as if the camera is taking a picture of a photo, and thus, all photos since all pictures are stored inside the Photos app. This design process wasn't just for the Photos and Camera icons. It was like this for all 200+ icons.

The icons that shipped with iOS 7 only seem to be somewhat there and need more refining and that's what ayeris was set to do. Design isn't always about drastic changes. It's about making something good, even better and truly beautiful. Take for example, the Videos icon. It's a fancy neon blue/green clapper board and we get it, but none of us can truly relate because not everyone's a movie director. And in some cases, the decision was so obvious to use a circular play button, which everyone encounters on daily basis while watching a video on their iOS device.
By using Apple's grid system, not only does each icon hold itself on its own, but it works alongside others in having a uniform look and feel. It makes it feel like there is a sense of purpose as to why things are the way they look and are positioned. "Why is the shape of that circle in the Safari icon that big? Why are the horizontal lines in the Notes icon that long and not extended to the edges?" – Because it follows a grid system. It doesn't just stop at the stock icons. Each App Store icon was designed with the grid system in mind as well, like all the iLife and iWorks icons.

ayeris goes beyond the beautiful icons to across iOS 7's user interface from subtle navigation bars, to the Mail.app and all the way to the tab bars in Safari application. It really is unbelievable how the simplest changes makes the biggest difference to the user experience. The best way to experience ayeris is by using it in your daily life on February 21st, 2014 for $3.99† in Cydia Store.
† Purchase any version of ayeris (iPhone or iPad) first will grant you the other version at a discounted price of $0.99

---


Thanks for the playful review video Mike Billig
What others have already said about ayeris:
"a solid improvement on the existing design."
— 9to5mac
"Ayeris is that fresh start—Ayeris is the result of many months of meticulous designing, re-designing, and starting from scratch"
— iDownloadBlog
"It's like my phone has a mind of its own now—it's like an iOS 7 ayecon!"
— iH8sn0w
"That's real aye candy :)"
— pimskeks
"Everything is good looking and sharp. It is a ★★★★★ theme!"
— pod2g
"That looks like iOS 7.. done right."
— winocm
---
ayeris comes preloaded with:
200+ re-designed icons
System-wide UI alteration
6 beautiful high-resolution wallpapers
Fully themed preference iconset
Themed Control Center
Status bar icons
…and much, much more to come!
---
Video by Jeff at iDownloadBlog
List of supported app icons (frequently updated):
1Password
7 Min MC
7 Minute Workout
8tracks
9GAG
AcePlayer
Activator
Air Canada
AirMusic
Alien Blue
Amazon
Amazon UK
American Express
Anki Flashcards
AnyTones
App Shopper
App Store
Apple Store
AppZappPush
Authy
Bank Of America
Barrel
BBM
BestBuy
BiteSMS
Blogger
Box
Breaking (News)
Burner
BytaFont
BytaFont 2
Calculator
Calendar
Callbar
Camera
Capital One
Chase
Cineplex
Circa
Clear
Clock
CloudMagic
Cobook
Colloquy
Colour Splash
Compass
Contacts
Couple
Crash Reporter
Cydia
DataMan
DB Navigator
Degrees
Deliveries
Desk Connect
Dex
Dictionary
dict.cc plus
DisplayRecorder
Disney World
Dropbox
Easy Wifi
eBay
Episoder2
Excoute
Eventbrite
F.lux
Facebook
Facebook Camera
Facebook Messenger
Facebook Pages
Facebook Paper
Facebook Poke
FaceTime
Fandango
Fantastical
Fantastical 2
FIFA
File Hub
Find My Friend
Find My iPhone
Fitness Buddy
Flex
FlexPlayer
FlipBoard
FuelBand
Futureshop
Game Center
GarageBand
GasBuddy
Google
Google+
Google Authenticator
Google Chrome
Google Drive
Google Earth
Google Gmail
Google Maps
Google Music
Google Translate
Hacker News
Horoscopes
iBooks
iBlacklist
iFile
IMDb
iMovie
Indigo
Instagram
IRCCloud
imgur
ING
iPhoto
iStudiez Pro
iTranslate
iTunes
iTunes U
itü sözlük
Jasmine
Keynote
Kijiji
Kurrency
LinkedIn
Mail
Mailbox
MarvinIP
Maps
Messages
Mobile Learns
Mobile Terminal
ModMyi
Mo PTT
Music
Nest
Netbot
Netflix
news:yc
Nike+ Move
Nike (Running GPS)
Notes
Numbers
OkCupid
OPlayer
OpenVPN
Opus Domini
osu!
Pages
Pandora (jewelry)
Pandora (radio)
Passbook
Path
PayPal
PC Financial
PC Plus
Pebble
Pebble Dev
Pedometer
Perfect Weather
Phone
Photo Booth
Photos
Pinterest
PlayStation
Pocket
Podcast
Prismatic
Prompt
Push (TNW)
Pushover
QuizUp
RBC Banking
RedLaser
Reeder 2
Reminders
Remino
Remote
Rogers My Account
RunKeeper
Safari
Scan
Scanner Pro
Segna Punti
Settings
Shazam
Simple (banking)
Simplenote
SiriusXM Canada
Skype
Sleep Cycle
SmartGlass Avatar
SnapChat
Snapseed
SoundCloud
Soundhound (free)
Sparrow
Speedtest
Sphero
Spotify
Steam
Stocard
Stocks
Super Hexagon
Tapatalk
TD Banking
Telstra 24/7
Terminal
The Record
Thermodo
Ticketmaster
TimePlay
Tim Hortons
TomTom (Europe)
Transit
TT
Tumblr
Tweetbot 2
Tweetbot 3
Twitter
Uber
UFC TV
Vevo
Viber
Videos
Vine
VSCOcam
VLC
Voice Memos
WaterMinder
Weather
WeChat
Weibo
WeiboChat
WeicoPro
Wells Fargo
WhatsApp
WinterBoard
Words
Wunderlist
Xbox One SmartGlass
XM Canada SkyDock
Yahoo Digest
Yahoo Mail
Yahoo Messenger
Yahoo Weather
YouTube
Zedge
百度Hi
百度贴吧
---
ayeris for iPhone & iPod touch Recent Updates:
Version 1.1 (Saturday April 26, 2014):
New dock style!
Various image edits
Fixed several icon filenames
Added 34 new icons (Transit, DisplayRecorder, Photo Booth, AnyTones, Telstra 24/7 , SmartGlass Avatar, Chase, Bank of America, Words, IMDb, Fandango, SoundCloud, Steam, Wells Fargo, UFC TV, OPlayer, Perfect Weather, XM Canada SkyDock, SiriusXM Canada, Degress, Burner, Flex, RunKeeper, Google Music, Kurrency, Episoder2, Desk Connect, Mo PTT, Nike (Running GPS), Fitness Buddy, AppZappPush, Netbot, 百度Hi, 百度贴吧, WeicoPro)
Version 1.0.6 (Thursday March 13, 2014):
Compatible with Greogian
Another minor update properly renaming icon files
Version 1.0.5 (Wednesday March 12, 2014):
Minor update properly renaming icon files
Version 1.0.4 (Tuesday March 11, 2014):
Added 28 new icons (AirMusic, Amazon (UK), Blogger, BiteSMS, Capital One, CloudMagic, Colour Splash, Couple, DataMan, Ecoute, GasBuddy, itü sözlük, ING, Jasmine, Mobile Learns, OkCupid, QuizUp, osu!, RedLaser, Sleep Cycle, Soundhound (free), Super Hexagon, Tapatalk, Telegram, tomtom (europe), WaterMinder, Wunderlist, Yahoo Digest)
Revised several icons
Fixed several missing icons
Version 1.0.3 (Wednesday March 5, 2014):
Added new 'ayeris Alternative Icons' in WinterBoard to easily switch between alternative icons (like green Messages icon and previous icon version of Phone—no SSH required)
NOTE: 'ayeris Alternative Icons' needs to be moved above all other ayeris selections
Fixed red day font colour issue in Calendar icon
Fixed duplicate Weibo icons in Settings.app
Revised a couple icons
Version 1.0.2 (Tuesday March 4, 2014):
Fully themed settings icon set (thank you @pimskeks!)
Added missing geofence location status bar icon
Added alternative green Messages icon
Added 6 new icons (I'm still filling requests)
Revised several stock icons
Version 1.0.1 (Saturday February 22, 2014):
Fixed rare issue of chopped app labels
Added 3 new icons
Version 1.0 (Friday February 21, 2014):
---
---
ayeris for iPad Recent Updates:
Version 1.1 (Saturday April 26, 2014):
New dock style!
Various image edits
Fixed several icon filenames
Added 5 new icons (Telstra 24/7, IMDb, Steam, UFC TV, Degress)
Version 1.0.6 (Thursday March 13, 2014):
Another minor update properly renaming icon files
UI fixes for non-retina iPads (for real this time)
Version 1.0.5 (Wednesday March 12, 2014):
(1.0.3 & 1.0.4 are skipped to match ayeris for iPhone's version)
Minor update properly renaming icon files
UI fixes for non-retina iPads
Version 1.0.2 (Tuesday March 11, 2014):
Added 5 new icons (Amazon (UK), Blogger, CloudMagic, Tapatalk, Wunderlist)
Revised several icons
Fixed several missing icons
Version 1.0.1 (Wednesday March 5, 2014):
Added new 'ayeris for iPad Alternative Icons' in WinterBoard to easily switch between alternative icons (like green Messages icon—no SSH required)
NOTE: 'ayeris for iPad Alternative Icons' needs to be moved above all other ayeris selections
Fixed red day font colour issue in Calendar icon
Fixed duplicate Weibo icons in Settings.app
Version 1.0 (Tuesday March 4, 2014):
---



TOP OF PAGE ^