Does Power 2 require an Apple Watch?
You don't need one, but it is recommended.
I have the first generation Apple Watch. Will Power 2 will work?
Yes, it will work on all iPhone running iOS 10 and Apple Watch running watchOS 3.
How accurate does it display my iPhone battery on my Apple Watch?
If you were to launch Power 2 from the iPhone, it will try to fetch for the updated information as quick as possible.
Time Travel doesn't work! Why?
Apparently by default, this feature is turned off. To enable Time Travel, launch the Watch application from your iPhone and navigate to the Clock tap and enable "Time Travel".


Time Travel is cool but how does it actually work?
Power 2 takes into consideration your iPhone model and will display your battery (when using Time Travel on your Apple Watch) assuming you will be using it non-stop on Wi-Fi.
My complication sometimes display my iPhone battery as lower than it actually is.
This will happen when both iPhone and Apple Watch are unable to connect to one another, therefore the Apple Watch will update your iPhone battery in your complication, based on its Time Travel algorithm. If it's still happening, recalibrating your iPhone to Apple Watch connection by uninstalling Power 2 and then reboot both your devices. Turn it back on and reinstall Power 2.
Will I receive battery notification on my iPhone?
Yes but you'll need to tap 'OK' when you see this pop up: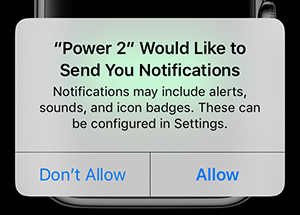 I've enabled notifications but I'm not receiving any notifications.
Due to certain limitations, Power will check your iPhone battery life every 30 minutes and will only send you a notification when your iPhone battery is either fully charged at 100% or within +/- 5% of 90%, 50%, 20% and 10%.
Battery notification was working for me a day ago but now I don't get notified anymore. Help?
Apps that are running in background tend to quit over time so just launch the app daily, at least once.
Can I add it to Glances?
Only with Power 1 - Glance at battery life. Since the release of watchOS 3, Glances has been completely removed.
What about the complication on the Apple Watch?
Make sure Power 2 is both in the background on iPhone and docked on the Apple Watch, it should try to find the information when prompted. Not immediately because Apple Watch apps are not native, but it will.
Does Power 2 know when I am charging my iPhone?
Yes, with a thunderbolt and once it's fully charged, the thunderbolt will change to the plug icon.
Does Power 2 know when I have low power mode enabled?
Yes, the battery image, in the iPhone app, Watch app and complication will turn yellow.
Back to Power 2